This Tech Tip, one in a series we publish for the marine and industrial diesel engine community, focuses on Deutz Model 1011 and 2011 thermostats. It follows earlier Dr. Diesel™ Tech Tips on these popular 1011, 1011F and 2011 Deutz engines.  See for  example
Deutz Models 1011 and 2011 engines are widely used in concrete saws, aerial lifts, stump grinders and other applications. The engines, while perhaps well designed, are not as rugged as the earlier Deutz 912 series. They are however, like a Porsche, maintenance intensive. The timing belt must be changed regularly to avoid it breaking and causing the valves to hit the cylinder head. Premium oil should be used and the oil filter changed regularly.
We've noticed a problem though with Deutz 1011 and 2011 thermostats. They are installed horizontally and can easily be installed backwards. This then leads to no oil pressure with disastrous and expensive results.
But here is a tip from our Dr. Diesel™. He says that "spring ahead, fall back" is a good saying for setting your watch to Daylight Savings Time. It turns out it is good for 1011/2011 thermostats too! Just keep "spring ahead" in mind.
Attached you will find two photos showing the correct and incorrect installation of the thermostat. We urge you to take care when changing thermostats on the 1011 and 2011 Series Deutz Diesel Engines and insert the thermostat spring first.
Deutz Part Number: 4179928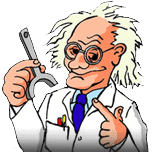 Written by Dr. Diesel
Knowledge is power. Power to build ties to engine users. To build a relationship with our customers, we share with you our 105 years of knowledge in many ways. We have this special section called "Ask Dr. Diesel™" where you can pose questions about engines, transmissions, industrial hand clutches, exhaust scrubbers, etc.