We at Foley Engines take tech support seriously. As a result we publish a series of Tech Tips for the diesel engine community. This Tech Tip is one of a number that we publish that focuses on Deutz Diesel engines.  See for example
The Deutz air cooled 912 engine series has been in production for many years.  Because it is air cooled, the Deutz 912 is simple with no radiator or coolant to worry about.  As a result, it is perhaps the most widely used diesel engine in the world.  Ordering an engine kit for a Deutz 912 though is not so simple because there are two variations, called Old Generation and New Generation.   It is important to identify which version of the 912 you have because the pistons, cylinder heads, and injectors are different and can't be used interchangeably.   We have received many calls from Deutz  912 owners who have bought engine overhaul parts kits over the internet only to later find out the parts don't fit or that the engine doesn't run well and the internet company won't accept them back.
Foley Engines is different. We're a real, live, 100-year-old, three generation family firm that is happy to share with you the difference between a Deutz 912 Old Generation vs New Generation.
With most diesel engine manufacturers, the engine serial number tells the story. Not so with Deutz.  Otto Diesel and his attorney partner (Why did Otto even pick a lawyer as his partner?) who founded Deutz don't make it easy.    Deutz 912 diesel engines with serial numbers below 800,000 are usually Old Generation and those above 900,000 are usually New Generation.   However there is a gray area between Deutz serial number 800,000 and 900,000 with both Old Generation and New Generation engines found in that range, flip flopping back and forth like a flounder on the deck of Dr. Diesel's boat.  This can cause difficulty in identifying a 912 engine as either Old Generation or New Generation and ordering parts can be tricky. But here is how to tell the difference.
Deutz 912 Old Generation vs. Deutz 912 New Generation Made Easy
Is your 912 fuel injector hold down clamp flat "like a claw" (New Generation) or when inverted, is the hold down dished or cupped (Old Generation)?
What is the diameter at the midpoint of your

Deutz

912 fuel injector?  Is it .968" or .662"? See our Tech Tip #150: How to Identify Deutz 912 Engine Fuel Injectors for more information on telling the difference between 912 Deutz injectors and, in this case, identifying between New Gen vs Old Gen Deutz912s.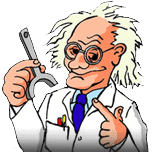 Written by Dr. Diesel
Knowledge is power. Power to build ties to engine users. To build a relationship with our customers, we share with you our 105 years of knowledge in many ways. We have this special section called "Ask Dr. Diesel™" where you can pose questions about engines, transmissions, industrial hand clutches, exhaust scrubbers, etc.