This Tech Tip, one in a series that we publish to help engine professionals, is the second in a series that we have published concerning Deutz 912 series engine fuel injection systems. This Tech Tip discusses Deutz Model 912 diesel fuel injectors. It follows Tech Tip #86: Deutz Diesel Fuel Systems: How to Identify Correct Deutz 912 Diesel Series Fuel Pumps and Injectors.
Identifying which Deutz 912 fuel injectors you have can be a hassle. While they look the same, they are not. There are two styles of 912 Deutz fuel injectors, early and late.  Unfortunately these styles are not interchangeable without changing the mounting hardware.  Usually the Deutz engine serial number can help you identify if you have an early or a late engine and therefore which injectors you have in your 912 Deutz.  This sounds easy, too easy.
But there's a catch.  The Deutz factory remanufacturing center in Atlanta, as a matter of policy, installs late style 912 injectors regardless of engine serial number in all the engines they rebuild.  The Deutz remanufacturing center then renumbers their engines with a new Deutz engine serial number that begins with the five digit sequence "20000" and continues for 5 more digits.  An example of this "remanufacturing center serial number" is 21008753.  Additionally, many local Deutz engine rebuilders will switch the injectors back and forth from early to late depending on what parts they have in stock and do not re-number the Deutz engine.
All in all, you can't base your decision about which 912 fuel injector you have if you rely upon your Deutz 912 engine serial number. This leaves the Deutz 912 owner in the dark when he tries to identify which injectors he has and order replacements. All too often he decides to put up with the down time and have his old injectors tested and rebuilt locally. This can be expensive and time consuming. Most local shops don't stock new tips for Deutz injectors and have to order them in from somewhere else.
How to Identify a 912 Deutz Fuel Injector
We have come up with a bullet proof way to help you tell early 912 fuel injectors from late Deutz 912 fuel injectors. It's easy, too. You just measure the diameter of the 912 fuel injector at its midpoint, from top to bottom. The early 912 Deutz injector is 24.6mm or .968" in diameter and the late 912 Deutz diesel injector measures 16.8mm or .662" in diameter. See the examples below.
New Injectors vs. Local Rebuilts
Now that you know how to identify your Deutz injectors, we have one last thought.  People sometime ask us to comment on new injector versus local rebuilt. We feel strongly that brand new 912 injectors are better than having the old ones tested and rebuilt locally.  Not only are the new ones better, they also cost less. Yep, when you call Foley new injectors cost less than rebuilding.  For example, we offer sets of new 912 fuel injectors for the F3L912 engine for just $295 for a set of three. The F4L912 is only $395 for a set of three.  These are bran' spankin new injectors.  Not rebuilts.  And we have them both in early or late style. No waiting, either. Call us today and you could have them tomorrow!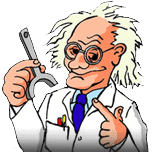 Written by Dr. Diesel
Knowledge is power. Power to build ties to engine users. To build a relationship with our customers, we share with you our 105 years of knowledge in many ways. We have this special section called "Ask Dr. Diesel™" where you can pose questions about engines, transmissions, industrial hand clutches, exhaust scrubbers, etc.