How to keep your Exhaust Manifold in check
A leaking exhaust manifolds on a Perkins, Deere or Deutz engine can be annoying. If left alone, this can lead to burst exhaust valves.
Here's how to stop a leak:
Check the manifold flanges with a straight-edge and a feeler gauge. (You shouldn't be able to slide a .010 inch feeler gauge under the straight edge.)
Clean and resurface as necessary. (A belt surfacer does a good job.)
Soak the manifold gasket in water and using a blow drier, heat-shrink it into place.
Use high temp copper silicone sealant around each of the port openings. (Note: This works only on traditional asbestos-style gaskets.)
Because access to the studs or bolts will be limited, use a Snap-On brand high performance 12 point socket (with it's thinner walls). The lower priced imported sockets have very thick walls. Dr. Diesel™ suggests that aftermarket sockets should only be used as sinkers on cod fish rigs.
To prevent the bolts from loosening, use a high temp silicone sealant like Lock-Tite.
Tighten in a circular, hop-scotch pattern as you would on a cylinder head. Re-tighten after 10 hours. If working on a torque-to-yield head bolt setup, as on a Deutz diesel, call us toll free at 1.800.233.6539 for the Deutz Workshop manual. You'll need it!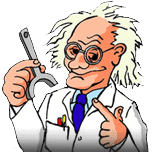 Written by Dr. Diesel
Knowledge is power. Power to build ties to engine users. To build a relationship with our customers, we share with you our 105 years of knowledge in many ways. We have this special section called "Ask Dr. Diesel™" where you can pose questions about engines, transmissions, industrial hand clutches, exhaust scrubbers, etc.