Attention people running Rockford PTOs. We've noticed recently a couple of clutch failures that could have been prevented. Here's how you can save time and money if you are running a Rockford 4-25754 PTO.
The Rockford Model 4-25754 PTO is a spring-loaded clutch used behind Ford industrial engines on wood chippers. We support this PTO by stocking complete clutch kits which include a pilot bearing, a clutch disc with 6 springs, pressure plate, release bearing and installation tool. This Rockford PTO has a splined input shaft. Our sales of that shaft have increased. We didn't know why.
Until we looked at the clutch discs that people were turning in to us as
cores! Some discs coming back to us as cores had the original 6 springs. Other discs were rigid without springs. Almost invariably the people who were purchasing new input shafts had rigid discs. When asked they told us that someone had told them that the rigid discs were better and lasted longer than discs with springs. As a result, they replaced the original disc with a rigid one without springs. Unfortunately, the rigid style disc destroys the input shaft.
To prolong the life of your Rockford 4-25754 PTO, Dr. Diesel™ says to run, don't walk, away if someone suggests that you change your spring equipped disc with a rigid one! It is one "upgrade" you don't want to make. If your input shaft is damaged, we stock them and will be able to ship a new shaft right out to you. Need more than an input shaft? We stock the complete Rockford 4-25754 PTO and can ship you one today.
One upgrade you do want to make is to always install a new pilot bearing when servicing the clutch. These are inexpensive and easy to change. See our Tech Tip #67 : How to Remove a Troublesome Pilot Bearing for more information.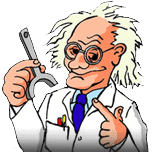 Written by Dr. Diesel
Knowledge is power. Power to build ties to engine users. To build a relationship with our customers, we share with you our 105 years of knowledge in many ways. We have this special section called "Ask Dr. Diesel™" where you can pose questions about engines, transmissions, industrial hand clutches, exhaust scrubbers, etc.