Great information regarding water pump pulleys
This Tech Tip, one of a series that we publish, extends the discussion of pulleys began in Tech Tip #38. While that Tech Tip focused on crankshaft pulleys, this Tech Tip discusses water pump pulleys.
Side Loads
While we have all seen six sheaved pulleys on a crankshaft, water pump shafts aren't quite as robust. To avoid side loading problems we recommend no more than three sheaves on water pump pulleys.
Perkins 4154 Raw Water Pumps
For some time now Perkins has supplied neither the pulley (PN NA003419) nor the pump (PN NA005576). Sherwood, the manufacturer of the H5 pump fitted to these engines, never supplied a pulley. To support our customers Foley Engines has been custom making replacement pulleys. Because we are manufacturing them in limited production runs they, the per unit cost is relatively high. Recently we formed a strategic alliance with Jabsco and they are now making a new raw water pump and pulley package to solve this problem. For the price of a custom made pulley we can now supply a new pump/pulley assembly. As an added benefit the customer gets Jabsco ease of maintenance and worldwide spare parts availability. For those that want to stay with the original pump we do have new pumps (less pulleys) in stock.
Perkins 4108 Circulating Pump Pulleys
Having solved the problem of auxiliary crankshaft pulleys for the 4108 (see Tech Tip #38) we now offer one piece, two sheave water circulating pump pulleys for the 4108. These pulleys are available separately or, preferably, as an assembly carefully pressed on to the .590 OD shaft of a new water pump. These double groove pulleys are ideal for people who want to run a double belted, high output alternator (Balmar suggests two belts for alternators above 100 amps) or like the added security of a double belt set-up.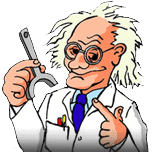 Written by Dr. Diesel
Knowledge is power. Power to build ties to engine users. To build a relationship with our customers, we share with you our 105 years of knowledge in many ways. We have this special section called "Ask Dr. Diesel™" where you can pose questions about engines, transmissions, industrial hand clutches, exhaust scrubbers, etc.