This Tech Tip is one of an ongoing series we publish to help people maintain their power takeoff clutches. See the following for helpful tips and examples:
We have collected these Tech Tips in a booklet titled Foley Engines Tech Tips: Helping with your Twin Disc/Rockford PTO Since 1916. If you would like us to send you a copy, please call us at 800.233.6539.
We stock and sell a large number of Twin Disc, Rockford, AutoClutch, Stein, WPT and PEC power takeoff clutches. Frequently, a customer will ask us to swap the drive pulleys from their old PTO clutch over to the new PTO. That's when the fun begins. Because pressing pulleys on and off Twin Disc and Rockford clutch shafts isn't easy, we have a two (2) hour labor minimum to do this job.
Over the years we've used a variety of techniques ranging from torches, beating off the pulley with sledge hammers, to using hydraulic presses to remove pulleys from Twin Disc, Rockford and AutoClutch PTOs. I'd like to share these techniques with you.
1) Torches
Using heat to remove a pulley from a PTO clutch output shaft is very straightforward. We recommend that if you don't have access to a torch, you can pick up a weed burner for under $50 and try that.
2) Hydraulic Presses
Often on a larger PTO, such as a Twin Disc 318 or a Rockford 4-34510 or a Rockford 4-11060, a sledge hammer or heat isn't helpful, and as a result many people turn to using a hydraulic press. Beware, though, of using the hydraulic press that consists of a bottle jack and an "A" frame with a sticker on it that says, "Made in China." You're going to need to put some serious pressure on the stubborn pulley and these $119 presses are very dangerous, especially with a large Twin Disc or Rockford PTO.
We have two OTC hydraulic presses in our shop. One is an air over hydraulic 55 ton press and the other is a hand actuated 12½ ton press. Both have functioning pressure gauges so the operator can see how much pressure he is applying.  Other well-known brands include Nugier. Good, used hydraulic presses are easy to find at machine tool auctions and factory closings.
3) Pullers
OTC has by far the largest assortment of pullers and spreader bars for removing pulleys. Some are used with an impact wrench. You can usually find an assortment of new OTC pullers for sale on eBay for roughly 50% off OTC list price.  Snap-on has a 40 ton puller for $750 but we have never seen it.
4) Types of Pulleys
Customers bring their Twin Disc and Rockford PTOs into our shop with one of two pulley styles, either a tapered lock pulley or a straight bore-type pulley.
The tapered lock two-piece pulley costs a little more money, but it can be removed much more easily. You simply remove two set screws in the middle of the hub and then put them back in different holes. This will help you jack the pulley off using a wedge.  If worse comes to worse, and you damage the pulley, usually only the center hub is damaged and that can be replaced. Before you remove the pulley, you need to reference the hub (not the pulley) when measuring the location where the pulley goes on the new PTOs shaft.<
Browning makes a good tapered lock two-piece pulley and if you damage a straight bore-type pulley you should consider replacing it with a Browning tapered lock pulley going forward.
5) Installing the Pulley on the New PTO Shaft
Okay. You've gotten the darn thing off the old shaft without breaking it. Now what? Carefully inspect the end of the output shaft on the new PTO clutch.  Because the pulley is really pressed on the shaft (as an "interference fit" component) it is important that the new shaft is not banged up, have burrs, etc.
We recommend using what is called "Plumber's roll" on the end of the new power takeoff output shaft. "Plumber's roll" is a coarse aluminum oxide paper that comes in a roll 1" wide. You can use it to smooth the shaft out. Finally, you should lubricate the shaft.
We hope that this little Tech Tip will help you the next time you need to change a pulley on a Twin Disc, Rockford or AutoClutch PTO. Please call us toll free at 800.233.6539 for more information.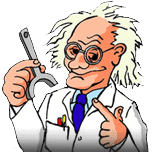 Written by Dr. Diesel
Knowledge is power. Power to build ties to engine users. To build a relationship with our customers, we share with you our 105 years of knowledge in many ways. We have this special section called "Ask Dr. Diesel™" where you can pose questions about engines, transmissions, industrial hand clutches, exhaust scrubbers, etc.