Helpful tips on installing a Continental Engine water pump
This Tech Tip is one of a series that we publish on maintaining industrial and marine engines and power takeoffs. This Tech Tip focuses on how to install a replacement water pump and pulley on your Continental Red Seal industrial engine. Please call us for further information, a Workshop Manual for your Continental engine or if you wanted to order a new water pump.
Installation Procedure
Installing a replacement water pump and swapping the pulley from the old pump to the new one on a Continental industrial engine is easy if you follow the procedures listed below.
BEFORE installing your new replacement water pump, thoroughly clean the cooling system by flushing radiator and block several times in both directions. We suggest the use of a cleaning or flushing compound to make sure all rust and scale is purged from the cooling system.
Remove old water pump from engine and clean block face.
Remove "back plate" from old pump and measure the distance from rear of pump body to rear of pulley flange
Use puller to remove pulley from shaft
Measure pulley and shaft. Recommended minimum press fit is .001 inches (.025 mm)
Insert cap screw in pump body BEFORE pressing pulley on to shaft. Coat inside of pulley bore with Loctite "retainer compound"
Place pulley on flat surface, pressing on END of shaft with arbor to dimension determined in step 3. Pulley should rotate freely. Reassemble pump on engine black using new gasket.
Fill cooling system with clean water, including antifreeze, if climate dictates. DO NOT run the pump without water in the system. Running a pump dry will damage the seal and shorten pump life.
Even if hoses look sound, check them to make sure they have not become soft or spongy. A soft or defective hose allows air to leak into the cooling system and combines with the water to accelerate corrosion and restrict water flow. Make sure hoses are clamped tightly.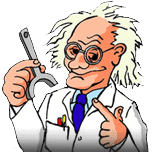 Written by Dr. Diesel
Knowledge is power. Power to build ties to engine users. To build a relationship with our customers, we share with you our 105 years of knowledge in many ways. We have this special section called "Ask Dr. Diesel™" where you can pose questions about engines, transmissions, industrial hand clutches, exhaust scrubbers, etc.