Great tips on repairing raw water pumps
This Tech Tip, one of a series we publish, resulted from customer feedback to an earlier Tech Tip #50 Raw Water Pump Maintenance.
When removing raw water pump covers to change impellers it isn't difficult to strip the threads in the pump housing. As a result the cover won't seal and the pump will leak. Rather than throwing away a $200-400 pump we have an alternative.
To repair the threads simply drill them out. Locate a 3/10″ bolt, 10-32 threads. Cut the head off of the bolt to make a stud. This stud, when inserted fully into the whole, should protrude 1/2″ above the impeller cover. Prepare some two-part epoxy and pour into the hole. Insert the stud into the hole and allow 24 hours to harden. Once the impeller and gasket have been replaced and the epoxy has hardened you may re-assemble the pump using the old screws and a nut on the new stud. Use a washer if necessary. While the rebuilt pump may not be as good as a new one, it should be a very adequate spare. Foley Engines stocks replacement covers if the old one is unusable.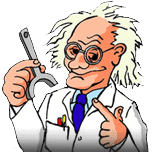 Written by Dr. Diesel
Knowledge is power. Power to build ties to engine users. To build a relationship with our customers, we share with you our 105 years of knowledge in many ways. We have this special section called "Ask Dr. Diesel™" where you can pose questions about engines, transmissions, industrial hand clutches, exhaust scrubbers, etc.