How a few simple steps can extend the life of your PTO (Part 2)
As most mechanics know, the pilot bearing is pressed into the flywheel and the PTO input shaft rides within it. A worn pilot bearing will cause problems with your Twin Disc® or Rockford clutch and could damage your flywheel. Selecting a good pilot bearing and maintaining it is vital to ensure the long service life of a Twin Disc or Rockford PTO clutch. Saving $5 by buying a Chinese pilot bearing may not be cost effective. We urge customers to select either a US-made pilot bearing or, at minimum, a pilot bearing marketed by a US company when replacing the bearing. We supply US-made pilot bearings with our Twin Disc or Rockford style clutches. For more information regarding pilot bearing, please see our  Tech Tip #118: Super Sizing Rockford and Twin Disc or Auto Clutch Power Takeoff Clutch Pilot Bearings: Prolonging the Life of Your PTO – Part Three.
Maintaining the pilot bearing involves greasing it. Usually by putting a grease gun on the zerk fitting in the PTO housing that then connects to a rubber hose inside the PTO. The problem is that often the grease hose within the PTO is broken or equally commonly the mechanic doing his daily checks, over-greases the clutch. Whatever the cause, excess grease gets on the facings. We urge you to be careful about over-greasing your clutch and to monitor the condition of the rubber grease hose. We stock upgraded replacement grease hoses that come with a protective metal mesh sheath to guard the rubber grease hose.
Rifle Drilled Output Shafts
Because these grease hoses can fail, recently some manufacturers have begun to offer a Twin Disc and Rockford style power takeoff with rifle drilled output shafts with a built in grease fitting on the outboard end. This is preferable to trying to grease the clutch through a zerk fitting on the housing connected to a rubber hose inside that may or may not be broken. Our replacement power takeoffs usually have this rifle drilled output shaft, which should prolong the life of the pilot bearing.
A New Way to Prevent Over-Greasing
Our shop people just came up with a new way to prevent over-greasing your power takeoff clutch. They feel that the PTO user running a shielded pilot bearing should pry off the cover on the bearing side closest to the engine. When the PTO is greased, excess grease will not be forced back onto the clutch pack and the clutch facings but forward into the flywheel where it will be dissipated.
We hope that this Tech Tip has been helpful. We publish these Tech Tips because we feel an obligation to our industry. We want to share our knowledge and help advance and make more productive the community of diesel engine owners and users. We welcome your comments and questions.
Manufacturers names, symbols and numbers are for reference purposes only and do not imply manufacturing origin.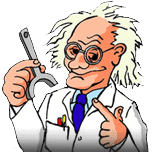 Written by Dr. Diesel
Knowledge is power. Power to build ties to engine users. To build a relationship with our customers, we share with you our 105 years of knowledge in many ways. We have this special section called "Ask Dr. Diesel™" where you can pose questions about engines, transmissions, industrial hand clutches, exhaust scrubbers, etc.